Last month I travelled to Mexico D.F. with Masuko and Kaye to visit Rachel while she was back home. I'd only been to Tijuana and other little towns in driving distance of San Diego, so I was very excited to see what the city was like. I was surprised by how green it was! Plants are everywhere, a total dream.
This is the only photo I took at El Museo De Arte Popular (besides a million on my phone) and it was one of my favorite places that we went. The museum is full of arts and crafts from all over Mexico, and features textiles, pottery, embroidery, costumes, and so much more that is so relevant to my work. El Palacio de Bellas Artes was another beautiful museum with a great Picasso show up right now.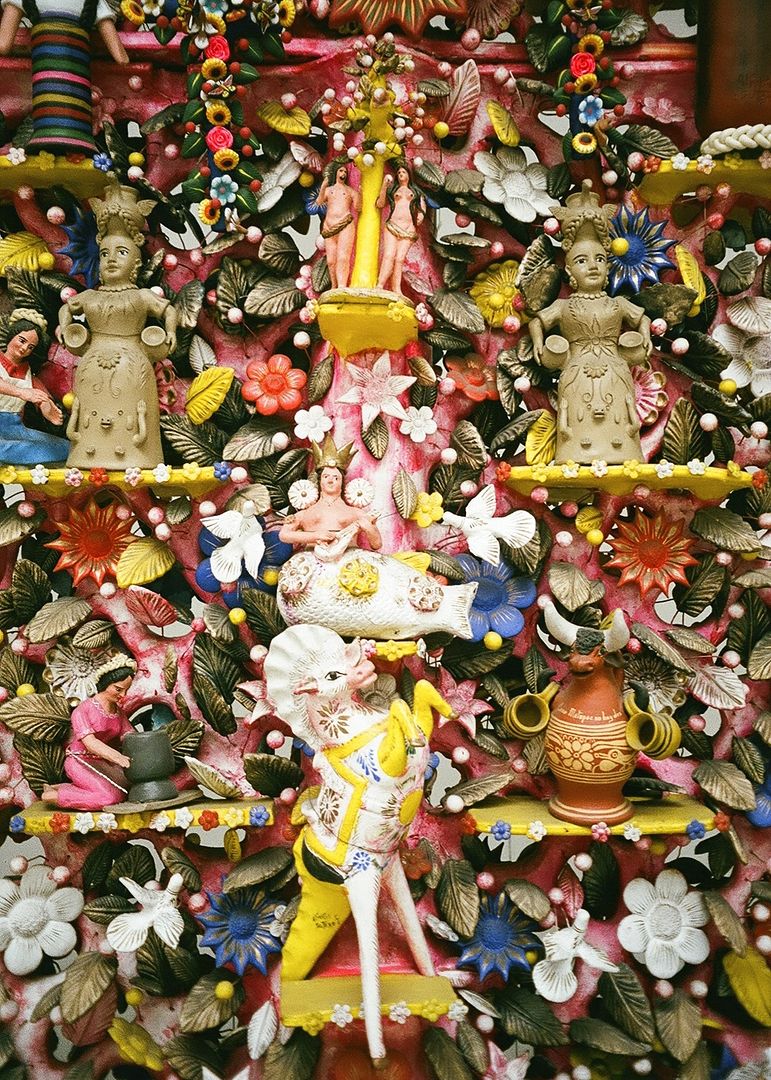 A handful from Julia's beautiful home in the south of the city:
We took a day trip to Teotihuacan to see the Pyramids of the Sun and Moon. I loved the pattern in the constructions, with tiny rocks dotted around the larger ones, but originally everything was plastered over and painted in bright colors. Very little painted surfaces remain, like the pink patterned lintel below, and I really wonder what it used to look like.
Back in the city we walked far to find an eerie old mask shop. I loved the tiled floor.
We also ate trays of tostadas and bought magic amulets and tiny dinosaur-shaped piñatas at this indoor market:
Other notable things: tacos at El Parnita, ice cream at Nevería Roxy, watching World Cup games everywhere, driving past the slums on the outskirts of the city, going out for mezcales and then reluctantly going to the club but then it was the best, breakfast and juices at Ojo de Agua, a crafts market in the south, the Diego Rivera & Frida Khalo house and the Frida Kahlo Museum, speaking as much Spanish as I can.